Travelling Into and Out of China: What Companies Need to Know
Travelling Into and Out of China: What Companies Need to Know
Published: 14 March 2023
Since China began reopening to travel, mobility managers may have questions about how this affects their mobile employees and what processes they need to follow. This article covers requirements for travel into and out of China.
For Employees Travelling Into China
From 8 Jan 2023, China has officially removed all quarantine measures for overseas arrivals.
Travellers are required to take a Polymerase Chain Reaction (PCR) test within 48 hours before boarding their flight, and they are permitted to travel to China only when the test result comes up negative. The test result should also be made available to the local authorities for inspection, and must include the name of the traveller, which should be identical to the name on the travel document used for the flight. It is recommended to have the traveller's date of birth and travel document number on the proof. The proof must contain the following:
Time of the test or time of issue (at least one of them should be within 48 hours before boarding)
Testing method (which should be nucleic acid testing, antigen testing will not be accepted)
Test result (which should be negative; 'uncertain' will not be accepted)
Name and contact details of the testing institution
The proof must be in the official language of the place of departure of your flight to China, or in English. Please request a hard copy of the result.
Additionally, travellers must declare their results to China Customs by filing the Health Declaration Form through the China Customs via the WeChat mini programme (scan the QR code below), or at https://htdecl.chinaport.gov.cn or via the China Customs app.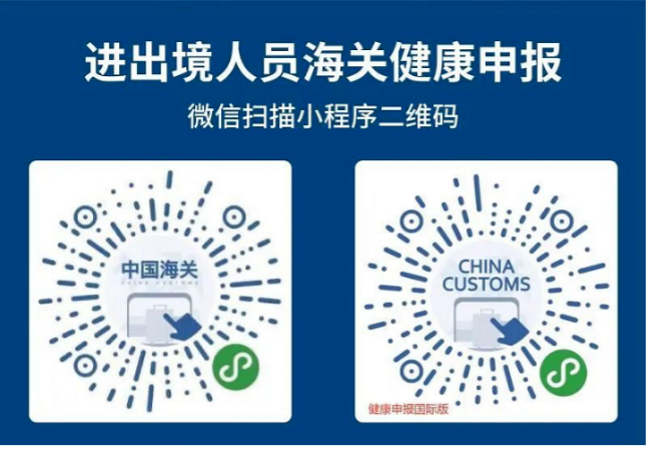 No centralised or home quarantine is required after passing the health declaration and customs inspection. Cross-border travel between Hong Kong, Macau, and mainland China has fully resumed from 6 February. Employees from Hong Kong and Macau looking to travel into mainland China will not be required to produce a negative PCR test result if they have not been outside Hong Kong and Macau within the last seven days of their eminent travel into mainland China.
From 1 March, employees travelling from Singapore, Malaysia, New Zealand, UAE, Thailand, Indonesia, Cambodia, Hungary, South Africa, and Sri Lanka into China are permitted to submit the Rapid Antigen Test (RAT, including RAT home testing kits) results instead of PCR test results. China Customs may conduct random checks, so make sure to complete the Health Declaration Form mentioned above. Mask wearing on board the aircraft is also non-mandatory, but travellers are highly advised to keep their masks on.
For Employees Travelling Out of China
China has resumed the process of passport and outbound visa applications for leisure travel. The country has also started processing of endorsements for mainland Chinese residents who would like to travel to Hong Kong for leisure or business.
If you have any questions, please do not hesitate to contact your SIRVA BGRS representative or email us at concierge@sirva.com.