Managing Complex Commercial Moves
Managing Complex Commercial Moves
Published: Friday, April 10, 2020
Considerations for office moves in the wake of COVID-19
As the implications of COVID-19 impact companies around the world, we anticipate that some businesses will consider downsizing or need to adjust their office plans and operations in response. SIRVA's Commercial division is prepared and ready to assist with these complex activities. Please read the information below for items to consider when preparing for your workplace or facility move.
A successful business relocation is largely dependent upon the move management support a company has put into place. From moving a 100-person office across town to refurbishing 50 retail stores across an entire country, commercial moves come with their own set of management challenges. Regardless of the size, scale or location, the objective should always be to manage moves as efficiently and cost effectively as possible, with minimal disruption to normal business operations.
Managing complex commercial moves can be exhausting and time consuming; nonetheless, it's important to consider every finite detail involved. Mismanaging a commercial move can lead to expanding timetables, downtime, lost productivity and revenue, increased moving costs, insurance claims, and even a decline in employee morale.
Knowing what to expect in a commercial move and how to prepare for potential challenges will help to ensure that your business continues to operate at maximum speed and productivity. Wherever your organization is or wherever you're going, it's important to find a Commercial moving partner that has the resources you need for a successful commercial move.
What to Expect During a Commercial Move
Though the components of a commercial move will vary depending on scale, scope and location, there are some typical steps and processes you can expect to encounter during your move, including: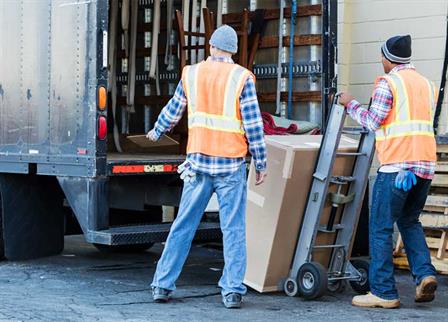 Planning and designing budgets, inventories, schedules, interior design, furnishings and layout
Managing assets, including items to be obtained, necessary items, and items that will need to be stored in preparation for your move (including technology, supplies, and furniture)
Selecting a vendor and moving partners
Communicating changes, strategies, and potential disruptions to employees, stakeholders, and partners
Packing and staging cubicles, office furniture, and technology to prepare for pick up and transportation
Unpacking and installing all furniture and supplies in the new space
With so many moving pieces at play, it's natural for challenges to arise during a commercial move. Managing a multitude of components presents a unique set of potential issues, including long timetables, extensive administrative responsibilities, access to van line capacity, limited transparency between supply chain vendors, and unpredictable costs.
Working with a Commercial Moving Partner
However, commercial moves don't have to be overwhelming. Challenges can be addressed with a simple solution that streamlines processes. A single-source partnership is one in which your commercial moving partner manages all aspects of your commercial move from end-to-end.
Single-source commercial moving providers manage all elements of a commercial move in-house. Owning the entire process results in superior quality control and security, greater transparency, cost savings, and a more seamless experience from planning to implementation. By simplifying and condensing processes, single-source partnerships allow for more fluid communication and easier move management.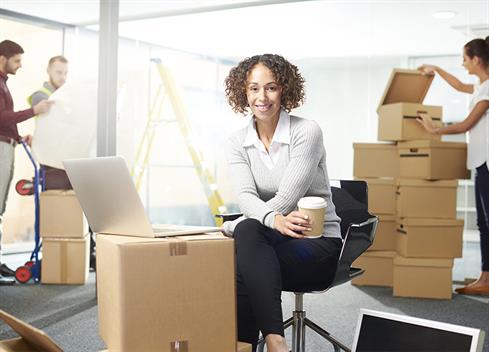 When selecting a single-source moving provider to partner with, be sure to consider the company's:
Methods for keeping costs transparent and reasonable
Ability to support global and local moves
Moving network
Ability to manage services directly
Ability to leverage technology
Level of experience
Ability to safeguard sensitive information
Customer satisfaction rates
A commercial move of any size or type is complex, by nature. Partnering with a single-source moving provider can ease the stress associated with these types of moves and decrease office disruption, resulting in higher company productivity, employee morale, and confidence among your company's clients. If the provider has a strong global footprint and an expansive, in-house network, your organization will benefit from a single point of accountability for the entire scope of global moving services – along with greater quality control, priority service, and significant savings. With so much at stake, companies are advised to prepare thoroughly before, during, and after a commercial move, and to choose a provider than can offer a full scope of services, managed under one roof, with the utmost transparency.
As a single-source provider, SIRVA Commercial is uniquely positioned to manage every aspect of your commercial move – from planning and packing to the physical move itself – efficiently and effortlessly. With a global footprint spanning 6 continents, our network of over 30,000 experienced commercial movers deliver local service on a global scale. Whether you're planning a workplace move, a facility move or the implementation of retail refurbishment, contact us at commercialmoving@sirva.com or visit our Commercial Moving Page to find out more about how we can simplify the process for you.
For more information please see SIRVA's Blog Disclaimer.