SIRVA's reputation for developing innovative and flexible technology that's easy to use has been a deciding factor for many of our newly-signed clients. We continue to invest millions to improve and enhance the relocation process for both mobility teams and the relocating employee.
SIRVA Technology Overview

SIRVA's technology stack is designed to deliver the right experience and capability to two distinctly different audiences; your mobility teams and your relocating employees.

SIRVA's Core Operating Platform
Our operating platform, developed in-house by SIRVA, is a fully-integrated operational and financial model that supports direct-data upload into SIRVA's business intelligence systems, as well as to all client and employee-facing web-based systems. Our technologies are globally consistent to ensure comprehensive end-to-end program management and reporting.
System of Record

SIRVA's operating platform (HUB) delivers enterprise-grade capability and flexibility to meet the needs of today's mobility organizations. Advantages include:

Faster access to information
A single source of truth across mobility, visa and immigration, tax and other related systems
Extensibility and scale, to make it simple to 'plug and play' with other systems, while maintaining data integrity and security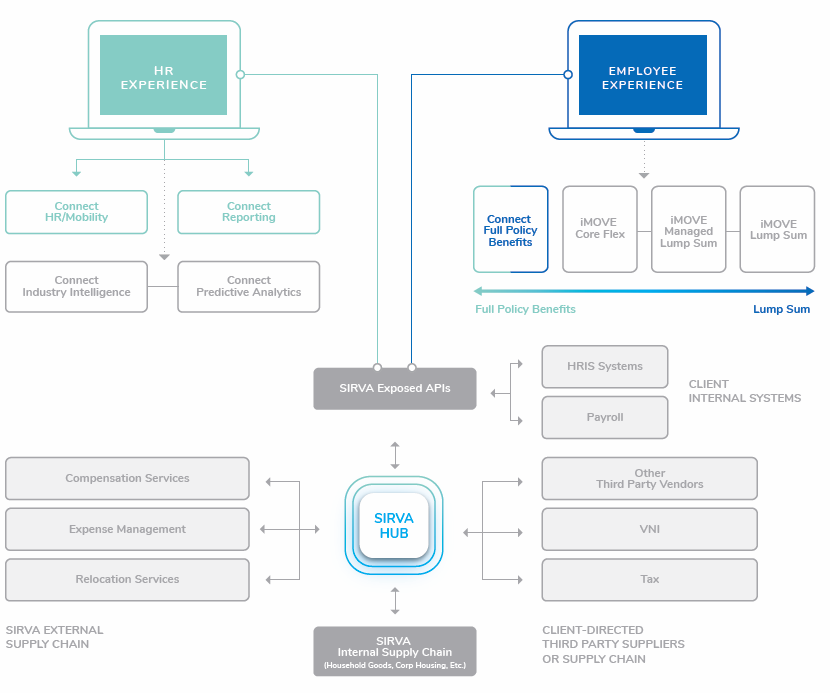 Related Services