Sirva offers do-it-yourself moving options, such as SMARTBOX, for those who might be looking for an easy, affordable, efficient, way to move themselves.
SMARTBOX
As a leader in global relocation and moving services, Sirva now offers a simpler and safer way to move and store belongings – SMARTBOX. It's a container solution that combines the best benefits of a do-it-yourself option and a full-service move. Imagine greater flexibility and convenient door-to-door delivery: Your employees simply load the SMARTBOX container(s) at their own pace and with total control of how their belongings are packed and organized. SMARTBOX professional drivers then pick the container up for temperature-controlled storage or immediate delivery, providing a smarter storage and moving experience and a valuable enhancement to your mobility program.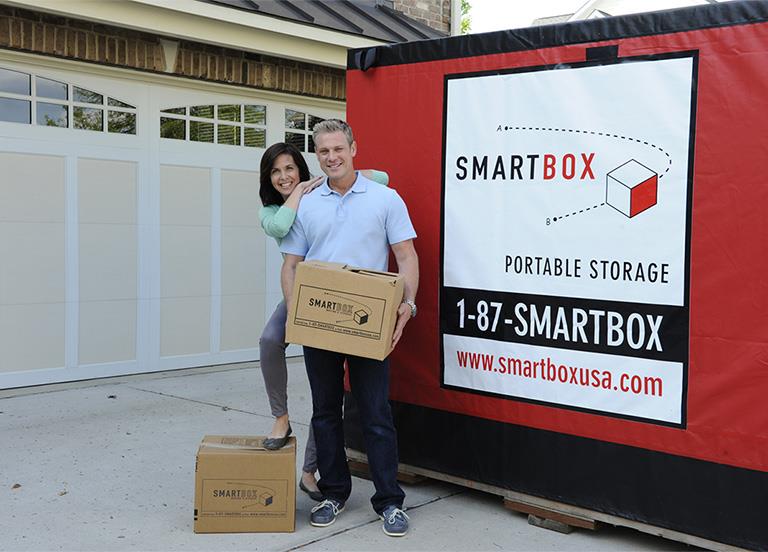 Helpful SMART steps towards your employees' next move and storage experience!
We've provided a helpful list below that will guide you through our process and inform you of key steps to follow.

Complete the online Get A Quote form Here, or give us a call at 1.877.395-2102. When you contact us, please state whether you are seeking information about a local move, long distance move or storage options with us. Once we know what your individual need is, our SMARTBOX experts will provide you with a free quote and get you scheduled.

Prepare your belongings for moving or storage, then receive your SMARTBOX containers.

Pack your SMARTBOX container. We never rush you; we want you to be able to pack at your own pace and convenience. Simply let us know when you're ready to have your SMARTBOX containers picked up, and we'll be there. Here are some tips on packing and moving.

If you're using our storage service, we'll pick up your items and transport them to our secured, temperature-controlled SMARTBOX storage facility. For local or long-distance moves, we'll pick up your items and transport them to your new location.

Rest easy and get settled!
Related Services
SMARTBOX Solution
The SMARTBOX solution applies to multiple tiers of policies and types of employees, and is easy to build into your mobility program for:
Lump Sum employees
New hires, college grads and interns
Employees that prefer to pack themselves and want flexibility
Employees in a housing transition
Employees that have to split their moves
Executives that need to store their belongings while staging their homes