Trust in a management team that cares about your experience — and the employees you relocate. Starting from the very top, our culture is shaped by people who understand what it takes to design and execute a successful mobility program, and who know what it means for your employees to move from their homes to entirely new places. By continuing to promote total customization, top technological advances, and a completely seamless process, our passion for improving lives is a part of every decision our management team members make.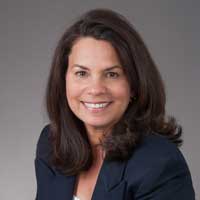 Linda Smith
Executive Vice President & Chief Commercial Officer
Linda Smith joined SIRVA in 2012 as Chief Commercial Officer to drive the global growth strategy for SIRVA. Prior to this position, Smith led global sales and account teams in large companies with a focus on outsourcing for over 20 years. As Chief Commercial Officer, she has global leadership responsibility for all client and market facing teams to include account management, sales and marketing. In addition, she is overseeing the innovation of new products and services to ensure that SIRVA is aligned to meet strategic objectives for customers now and in the future.
Smith began her career at Xerox Corporation in Rochester NY, where she held marketing and sales roles of increasing responsibility, running businesses with a focus on Profit and Loss (P&L). Accomplished in customer driven approaches to business challenges that enable growth. She also had a distinguished career as Vice President of Global Services and Vice President of Field Sales Operations with Ricoh Corporation, headquartered out of Tokyo.
Ms. Smith holds a master's degree in business administration from Rochester Institute of Technology.