Trust in a management team that cares about your experience — and the employees you relocate. Starting from the very top, our culture is shaped by people who understand what it takes to design and execute a successful mobility program, and who know what it means for your employees to move from their homes to entirely new places. By continuing to promote total customization, top technological advances, and a completely seamless process, our passion for improving lives is a part of every decision our management team members make.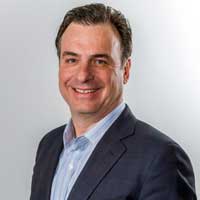 John Kirk
Executive Vice President & Chief Information Officer
John Kirk is SIRVA's Executive Vice President & Chief Information Officer. Kirk joined SIRVA in September 2015. He has been a leader of technology and IT over the last 15 years and, prior to that, he held executive positions on the business side in terms of sales, marketing, operations, procurement, and supply chain.

Most recently, Kirk was the CIO for the Vitamin Shoppe, a leading publicly traded retail and e-commerce business with $1.3B in sales and 736 locations. He led the technology and IT department during a 50% increase in store count and e-commerce revenue, scaling the business for quality, customer service, and profitability. He was responsible for strategic direction and all daily operations for technology, applications, operations, store systems, technical infrastructure, telecommunications, and cybersecurity and e-commerce platforms. Kirk led the IT team of 125 professionals and developed and implemented a multi-year IT strategic plan enabling the company to scale for growth. He created and implemented the application roadmap to upgrade and install leading new technologies. Under Kirk's leadership, IT and technology increased speed to market by 30%, improved customer satisfaction significantly, increased uptime of IT systems to an impressive 99.995%, increased productivity of IT by 20%, and established a leading ecommerce business. Kirk holds an MBA from Seton Hall University where he graduated with honors, and he also holds a Bachelor of Science in Business Administration from La Salle University.