Sustainable Solution helps Women in Need
Sustainable Solution helps Women in Need
Published: Wednesday, July 17, 2019
Every relocation program is unique, requiring close attention to all details to ensure our clients' satisfaction and our mutual success. Some moves, however, stand out as particularly challenging. During these situations, our employees take great pride in providing innovative, caring and customized solutions to our clients and their employees. The following is one of many of these stories.


When a business is moving or undergoing a facelift stakeholders often face a challenge: What will they do with their surplus furniture? It's true that pieces can simply be disposed of, but is that socially or environmentally responsible?
Corporate responsibility is something we take seriously at SIRVA – and so do our brands – so when Roger Carnachan heard that one of our business clients had five floors' worth of furniture to dispose of, he acted quickly. Months prior, he had established a relationship with a New Zealand-based nonprofit organization, All Heart NZ, dedicated to redirecting, repurposing and reducing all aspects of corporate waste and creating charitable funding. Rather than waste the used but functional furniture, he called All Heart NZ to see if a community organization could sustainably use the items.
As it turned out, a women's shelter was desperately in need of everyday items and household goods. Located in nearby Tauranga, the center exists to help women and their children get back on their feet after particularly difficult experiences. Roger was only too happy to partner our Tauranga Allied Pickfords Franchise with the nonprofit to ensure that the shelter would be the beneficiaries of the desks, chairs, credenzas, TVs, kitchenware and outdoor furniture that used to serve some 235 employees at their old office location.
In a matter of days, Roger and the Hamilton team coordinated a delivery utilizing two large trucks with five staff members and drivers. All Heart NZ and Roger organized all the details, forwarding items from Cambridge to Tauranga for the benefit of the community, the shelter and the women and children living there. The business avoided dumping and created an environmentally responsible solution.
Since the start of our partnership with All Heart NZ, Roger – and many other Allied Pickfords employees around New Zealand – have completed more than 75 similar deliveries of furniture and equipment that would have otherwise been disposed of. Roger attributes the ongoing partnership to shared values and a strong sense of responsibility to local communities, adding, "A major part of business relocation is adding value to our customers by providing a complete solution when a company moves. If that solution happens to benefit the environment and other human beings, that's something we can all be proud of."
---
The Face Behind the Story:
Roger Carnachan, Sales Manager - Business Relocations, Allied Pickfords, a SIRVA-owned Company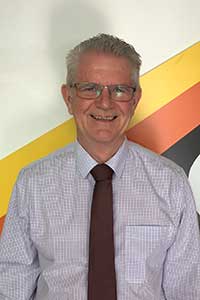 Roger joined Allied Pickfords in 2008. As Sales Manager of Business Relocations he is responsible for providing clients with service solutions that best match their individual needs when moving their offices, warehouses, factories or retail spaces. Initially a commercial sales consultant, his expertise in the industry, winning way with people and reputation have all contributed to his growth into his current position. He holds a Bachelor of Commerce degree from Auckland University.

Roger lives in Auckland, New Zealand, where he pursues his favorite hobbies: gardening, camping, and tramping which is, put simply, going for long-distance hikes in rough country. He has four children and six grandchildren, and just celebrated his 40th wedding anniversary by travelling to Spain, Portugal and Morocco – for 40 days and 40 nights.