Trust in a management team that cares about your experience — and the employees you relocate. Starting from the very top, our culture is shaped by people who understand what it takes to design and execute a successful mobility programme and who know what it means for your employees to move from their homes to entirely new places. By continuing to promote total customisation, leading technological advances and a completely seamless process, our passion for improving lives is part of every decision our management team members make.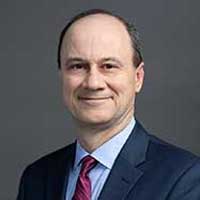 Steve Cassell
Executive Vice President & Chief Financial Officer
Steve Cassell joined SIRVA in 2004 and has held a variety of leadership roles in both Finance and Operations throughout his tenure. Appointed to the role of Chief Financial Officer in August 2018, he is a strategic partner to our CEO, managing the company's investments, advising on business planning and process changes. He also plays a vital role in compliance, quality control and company strategy.

Prior to joining SIRVA, Cassell was the CFO at Executive Relocation from 2000 to 2004, after holding various financial leadership roles at Boatmen's Relocation in the Midwest. With over 25 years of experience in the relocation and moving industries and a laser focus on finance and customer service, he brings a wealth of expertise and experience to his current role. Cassell holds a Bachelor's Degree in Finance from the University of Missouri and a Master of Business with an emphasis on Information Technology from St. Louis University.