Trust in a management team that cares about your experience — and the employees you relocate. Starting from the very top, our culture is shaped by people who understand what it takes to design and execute a successful mobility program, and who know what it means for your employees to move from their homes to entirely new places. By continuing to promote total customization, top technological advances, and a completely seamless process, our passion for improving lives is a part of every decision our management team members make.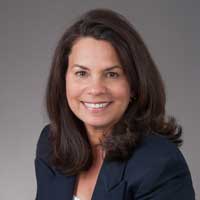 Linda Smith
Executive Vice President & Chief Commercial Officer
Linda Smith joined SIRVA in 2012. She brings with her a wealth of sales and marketing experience. As Chief Commercial Officer, she oversees SIRVA's commercial global sales and account management teams. She is responsible for all global sales, marketing, account management, advertising, public relations, and new product development activities. She is also responsible for SIRVA's global pricing, contracts, and RFP efforts.

Prior to joining SIRVA, Smith had a distinguished career with Ricoh, where she served as Vice President of Ricoh Global Services and Area Vice President of Field Sales Operations. Over her 18-year career at Xerox, she held various executive positions, including Vice President and General Manager of Field Sales Operations, National Vice President of National Agent Channel Marketing, and Vice President of United States Marketing.